Step 5 – F-1 Visa Approval
Denial of an F-1 Visa
Applications can be denied if the applicant failed to provide necessary information or supporting documentation as required. Sometimes, however, you can be found ineligible for other reasons.
If you do not meet the qualifications for an F-1 Student Visa you can expect to be denied.
According to the US Department of State,  F-1 student visa applications can be denied for reasons including the following
Applicant did not fully complete the visa application and/or provide all required supporting documentation
Applicant did not establish eligibility for the visa category being applied for
Applicant did not overcome the presumption of immigrant intent, required by law, by sufficiently demonstrating that you have strong ties to your home country that will compel you to leave the United States at the end of your temporary stay.
Applicant did not demonstrate proof of adequate financial support in the United States
Other reasons for denial: Fraud or Misrepresentation, Unlawful Presence in the United States(previously overstayed a visa), health-related reasons, Criminal or Security reasons.
A complete discussion of this can be found on the US Department of State website.  This is a great resource if your visa application is denied and is one way to determine if you are eligible for a waiver or want to consider reapplying.
Approval of an F-1 Visa
Before leaving your appointment check that you received the right type of visa, that your name and date of birth are correct and they match the information in your passport.
Arrival in the US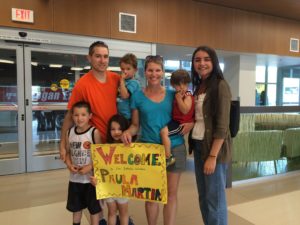 You need to arrive in the US no more than 30 days prior to the first day of classes.
You must bring your Form I-20 with you when you enter the United States. This is presented along with your Passport containing your Student Visa at the port of entry when you arrive. The Customs and Border Protection Officers will review them and grant you permission to entry if all is in order. https://studyinthestates.dhs.gov/us-customs-and-border-protection.
Your Student visa allows you to travel to the US and request permission to enter at the US Port of entry. US Customs and Border Protection (CBP) and the Department of Homeland Security (DHS) are the final authority on entry permission. They can admit or reject admission into the US. If admitted you will be issued a Form I-94 (Arrival-Departure Record) which gives you permission to stay in the US. NOTE: Form I-94 must be kept in your passport.
For your initial enrollment you may arrive more than 30 days prior to the day of classes; however, you would do so on a visitor visa which also requires qualification and an application. A notation of future study will be notated on your visa. You must inform the US Customs and Immigration Official at the port of entry that you are coming to study in the U.S.
Entering the county on a visitor visa and having an F-1 Student visa will require you to change your Exchange Visitor status by submitting a Form I-539, which is an Application for Change of Nonimmigrant Status and pay the fee.  You would also submit the required Form I-20 to the Department of Homeland Security. You cannot begin studies until the change of classification is approved.
If you are a continuing student and have maintained an up to date student status in the SEVIS system you can enter the US any time before your classes start.
After Arrival Maintain a Valid F-1 Status
Your F1 Student visa approval allows you to be to enter the United States as an international student. To maintain you status make sure you are aware of the obligations as the holder of an F1 Student visa. Failure to maintain your valid F-1 visa status will result in your not being allowed to return to re-enter the US if you leave. To stay in good standing while studying abroad in the US on an F-1 Student visa you should maintain and follow these guidelines.
Maintaining Good Standing Guidelines:
Check in at your school upon arrival
Give your local address and contact details to your school so they can keep your SEVIS records up-to-date. Notify them of ANY change your local address or circumstances at any time during your stay.
Keep your passport valid
Your passport must be valid for at least six months going forward. You can renew your Passport through your country's consulate or embassy.
Full-time enrollment
Make sure you maintain your full-time enrollment. This is a legal requirement in order to keep your F-1 Student. Check-in with your schools Designated School Official (DSO) to make sure this requirement is maintained.
Extend your I-20 as needed
Should you want to continue your studies after your program is finished, you must notify your school at least 30 days prior to the end date contained in Section 3 of your Form I-20. This will ensure enough time to maintain your F-1 Student visa status and obtain any necessary documentation.
Apply for a new I-20
Should you change locations or commence a new program of study (i.e. attend a college or university) you must secure a new Form I-20. This should be done at least 60 days prior to the conclusion of your initial program. Similar documentation as originally provide will be required as will continued evidence of funding.
Working
F-1 students are allowed to work part-time on-campus, but are required to complete a Form I-9 with their International Office. F-1 Student visa holders are NOT allowed to work off-campus as it is a serious violation of the F-1 Student visa status. F-1 Students are here for study and to pursue an education. Your International Office and the Department of Homeland Security will need to provide authorization for you to work. Working off-campus without permission is a serious violation of your F-1 visa regulations and may result in being deported.
Carry your passport and your I-94 card with you at all times
You must have these in order to prove that you are in the US legally on an F-1 Student visa.
Change status or depart the US on time
As an F-1 student you have 60 days to depart the US after the completion of your program of study or you can change your status before the end of your program.
It is very important to maintain your F-1 Student visa status and remain in the US as an international student. Keep all of the steps in mind and you should not have problems.
Unless previously canceled, a visa is valid until its expiration date. Therefore, if the traveler has a valid U.S. visa in an expired passport, do not remove the visa page from the expired passport. You may use it along with a new valid passport for travel and admission to the United States.
End of Your Program of Study
Upon completion of your program of study your F-1 Student visa gives you 60 days to leave the United States. In order to stay in the US you must enroll in another educational program or transfer to another school. This will result in a new Form I-20 being issued by the new school.